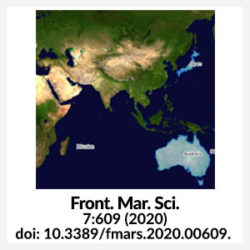 Publication Scientifique
O. Selmoni, G.Lecellier, L. Ainley, A. Collin, R. Doucet, V. Dubousquet, H. Feremaito, E. I. Waia, S. Kininmonth, H. Magalon, S. Malimali, A. Maugateau, A. Meibom, S. Mosese, M René-Trouillefou, N. Satoh, M. JH van Oppen, A. Xozamé, M. Yékawene, S. Joost and V. Berteaux-Lecellier. (2020) Using modern conservation tools for innovative management of coral reefs: the MANACO Consortium. Front. Mar. Sci., 7:609 doi: 10.3389/fmars.2020.00609.
ABSTRACT
Coral reefs are under threat and innovative management strategies are urgently required. However, discoveries from innovative fields of coral reef research are rarely transposed in practical conservation actions. This is mainly due to the difficulties in knowledge exchange between scientists and conservation stakeholders. The ManaCo consortium (http://manaco.ird.nc/) is an international network federating conservation stakeholders and researchers in a common effort to preserve the coral reefs. .... lire la suite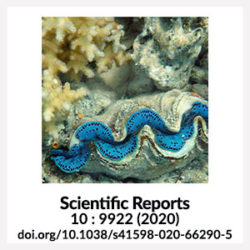 Publication Scientifique
Guibert I, Bourdreux F, Bonnard I, Pochon X, Dubousquet V, Raharivelomanana P, Berteaux-Lecellier V, Lecellier G. Dimethylsulfoniopropionate concentration in coral reef invertebrates varies according to species assemblages. Sci. Rep. 10 : 9922 (2020). https://doi.org/10.1038/s41598-020-66290-5
ABSTRACT
Dimethylsulfoniopropionate (DMSP) is a key compound in the marine sulfur cycle, and is produced in large quantities in coral reefs. In addition to Symbiodiniaceae, corals and associated bacteria have recently been shown to play a role in DMSP metabolism. Numerous ecological studies have focused on DMSP concentrations in corals, which led to the hypothesis that increases in DMSP levels might be a general response to stress. Here we used multiple species assemblages of three common Indo-Pacific holobionts, the scleractinian corals Pocillopora damicornis and Acropora cytherea, and the giant clam Tridacna maxima and examined the DMSP concentrations associated with each species within different assemblages and thermal conditions.... lire la suite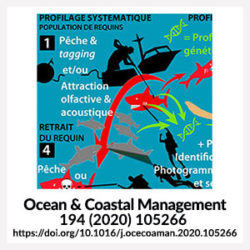 Publication Scientifique
Clua E.E.G, Linnell J.D.C., Planes S. and C.G. Meyer (2020). Selective removal of problem individuals as an environmentally responsible approach for managing shark bites on humans. Journal of Ocean and Coastal Management. 194 (2020) 105266. https://doi.org/10.1016/j.ocecoaman.2020.105266
ABSTRACT
Selective removal of problem individuals following shark bite incidents would be consistent with current management practices for terrestrial predators, and would be more effective and more environmentally responsible than current mass-culling programs. In parallel, and in addition to traditional forensics analysis, we recommend the routine collection of shark DNA from wounds or devices following shark bite incidents in order to genetically identify the individual responsible. This approach would require creating an extensive database of shark identities in high-risk areas against which to compare DNA forensically recovered from shark bite incidents.... lire la suite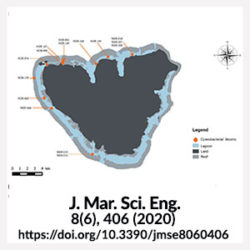 Publication Scientifique
Bonnard, I.; Bornancin, L.; Dalle, K.; Chinain, M.; Zubia, M.; Banaigs, B.; Roué, M. Assessment of the Chemical Diversity and Potential Toxicity of Benthic Cyanobacterial Blooms in the Lagoon of Moorea Island (French Polynesia). J. Mar. Sci. Eng. 2020, 8, 406. https://doi.org/10.3390/jmse8060406
ABSTRACT
In the last decades, an apparent increase in the frequency of benthic cyanobacterial blooms has occurred in coral reefs and tropical lagoons, possibly in part because of global change and anthropogenic activities. In the frame of the survey of marine benthic cyanobacteria proliferating in the lagoon of Moorea Island (French Polynesia), 15 blooms were collected, mainly involving three species—Anabaena sp.1, Lyngbya majuscula and Hydrocoleum majus-B..... lire la suite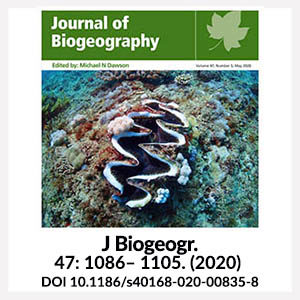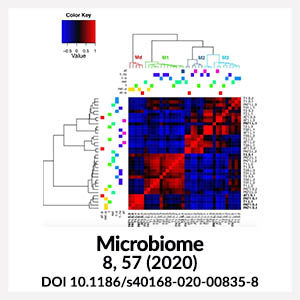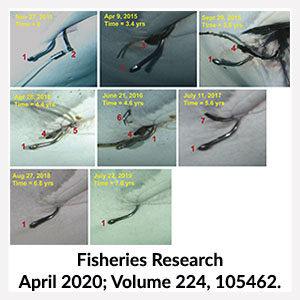 Publication Scientifique
Bègue, M., Clua, E., Siu, G., & Meyer, C. (2020). Prevalence, persistence and impacts of residual fishing hooks on tiger sharks. Fisheries Research, 224, 105462.
ABSTRACT
We used long-term observations of 55 individually identified tiger sharks (Galeocerdo cuvier) at a shark ecotourism site off Tahiti to estimate the prevalence, retention times and impacts of residual hooks and trailing line resulting from fisheries interactions. Thirty-eight percent of tiger sharks had at least one fisheries interaction resulting in retained hooks during the 8-year observation period. Both stainless-steel and corrodible hooks had a retention half-life of less than 1 year, and all corrodible hooks were shed within 2.5 years whereas firmly embedded stainless-steel hooks persisted for at least 7.6 years and are potentially retained for the lifetime of the shark.... lire la suite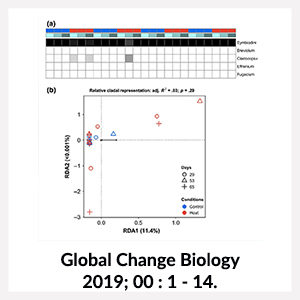 Publication Scientifique
Alves Monteiro, HJ, Brahmi, C, Mayfield, AB, Vidal‐Dupiol, J, Lapeyre, B, Le Luyer, J. Molecular mechanisms of acclimation to long‐term elevated temperature exposure in marine symbioses. Glob Change Biol, 2019; 00:1-14. https://doi.org/10.1111/gcb.14907
ABSTRACT
Seawater temperature rise in French Polynesia has repeatedly resulted in the bleaching of corals and giant clams. Because giant clams possess distinctive ectosymbiotic features, they represent a unique and powerful model for comparing molecular pathways involved in (a) maintenance of symbiosis and (b) acquisition of thermotolerance among coral reef organisms. Herein, we explored the physiological and transcriptomic responses of the clam hosts and their photosynthetically active symbionts over a 65 day experiment in which clams were exposed to either normal or environmentally relevant elevated seawater temperatures... lire la suite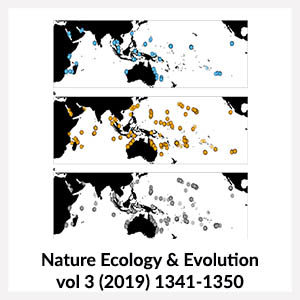 Publication Scientifique
Darling, E.S., McClanahan, T.R., Maina, J. et al. Social–environmental drivers inform strategic management of coral reefs in the Anthropocene. Nat Ecol Evol 3, 1341–1350 (2019) https://doi.org/10.1038/s41559-019-0953-8
ABSTRACT
Without drastic efforts to reduce carbon emissions and mitigate globalized stressors, tropical coral reefs are in jeopardy. Strategic conservation and management requires identification of the environmental and socioeconomic factors driving the persistence of scleractinian coral assemblages—the foundation species of coral reef ecosystems. Here, we compiled coral abundance data from 2,584 Indo-Pacific reefs to evaluate the influence of 21 climate, social and environmental drivers on the ecology of reef coral assemblages.... lire la suite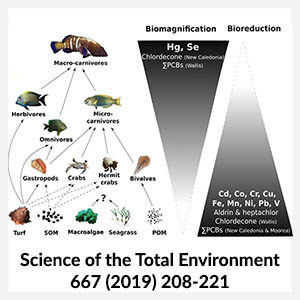 Publication Scientifique
Fey, P., Bustamante, P., Bosserelle, P., Espiaud, B., Malau, A., Mercader, M., Wafo, E. and Y. Letourneur (2019) Does trophic level drive organic and metallic contamination in coral reef organisms? Sci Total Environ, (667)208-221. https://doi.org/10.1016/j.scitotenv.2019.02.311
ABSTRACT
Metallic and organic pollutants constitute a serious threat for coral reef ecosystems, potentially affecting a great number of species interacting within complex trophodynamic processes. Pesticides, PCBs and trace elements were measured on coral reef communities of three Pacific islands (Moorea, Wallis and New Caledonia) in relation with δ15N values, a proxy of trophic level. Several potential sources of organic matter, benthic invertebrates and fish belonging to various trophic strategies were sampled at each island. .... lire la suite